Course details
3280 yen Seasonal deep-fried skewered course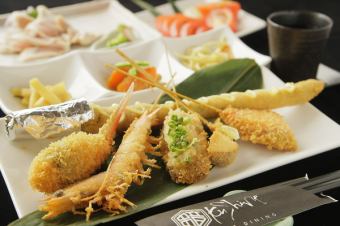 3280 yen
All-you-can-drink at 5,000 yen
Our popular NO1 course. Seasonal deep-fried skewers 12 ♪ Great satisfaction course ♪ Refreshing refreshing dish dishes, Ochazuke at the end is also attached. We will also respond to weak ingredients and requests.
Course menu
Foreseeing
Heavy vegetables
Refreshing dishes one day dishes
Deep-fried creative skewers this month
1 Shrimp roll of big leaves
2 Pork fillet
3 a yuu
4 AOLIICA
5 kisses of plum meat on top
6 Tri-fold roll of the sea bream
7 Koala kombu
8 Tap nard roll
9 The scallop of the scallops
10 Shimeji bacon winding
11 Mushroom cream cheese packing
12 Green asparagus
※ The type of skewer varies depending on the arrival status of ingredients. Please note.
Special sauce and chazuke (plum · spicy cane · salt kelp · stem wasabi)
(7) Hito Solve
■■■ All-you-can-drink plan with 2H ■■■
5,000 yen
2019/10/03 update