Course details
5000 yen on the day OK ☆ Cheese fondu skewer fried girls party course ☆ 3H all you can drink ☆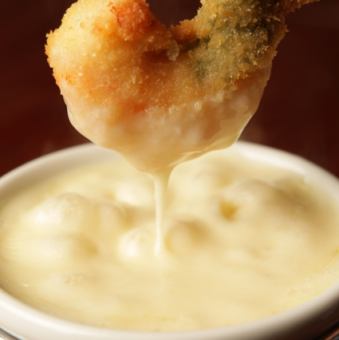 5000 Yen
All-you-can-drink three hours happy!
Reservation deadline

Until 18 o'clock on the day of visit to the store
A popular cheese fondue skewered course ☆ ■ Our most popular !! ■ 8 deep - fried skewers, vegetables, dish dishes. Volume perfect score by cheese risotto at the end ☆
Course menu
1 Vegetable stick and cabbage
2 small bowl cooking
One item of 3 seasons (scissors ponzu, stewed beef stew etc.)
4 cheese fondue · baguette, vegetables, with sausage (Please enjoy as a source of skewered fish)
8 seasonal creative skewers deep-fried 8 shiso shiso rolls 3 yuan pig black vinegar sauce, asparagus 1 deep-fried etc. 8
6 Dessert skewer (ice cream, sweet potato etc.)
You can choose from 7th dish of soup juice pickles (plum, taka, salt kelp, stem wasabi) or cheese risotto
8 Soruba fresh fruit solve
※ Anniversary plate can also be prepared. Please consult in advance.
■■■ All-you-can-drink plan with 3H ■■■
2019/10/03 update