DETAIL
■ 5000 yen ■ Skewer First course (All you can drink, 3 kinds of vegetables, 3 types of appetizers, gem of season, 12 skewers, Ochazuke)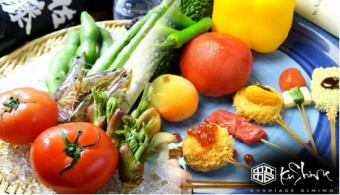 Reservation deadline

Visit of hope the day before until 22:00
☆☆☆ Our most popular plan ☆ ☆ ☆ We can enjoy a lot of taste of season little by little.It is a plan with an all-you-can-drink program for two hours.
Course menu
1 Vegetable stick and cabbage
2 Appetizer Three Plates
Three season dishes (carpacho, stewed etc.)
4 skewers of early summer 12
1 shrimp's leaf blossoming
2 HIREKATSU
3 Corn
4 Kelp and Eringhi
5 Minshūji tempurashi
6 Shimeji bacon
7 Green Asparagus
8 lotus root curry meat stuffing
9 Tap nard roll
10 Cow sirloin
11 Aoriiika and mentaiko
12 Kyoto Rawako's Black Honey
6 Special-purpose seaweed pickles (plum · Taka · salt kelp · stem wasabi)
7 Hitachidis Ice Cream
* The type of skewer differs from day to day depending on the season and the arrival state of ingredients.Please note.Sorry for your inconvenience if you have "bad weather, request" but please contact us in advance.
* Dessert plate for Anniver Surrey is also available.
2017/12/16 update